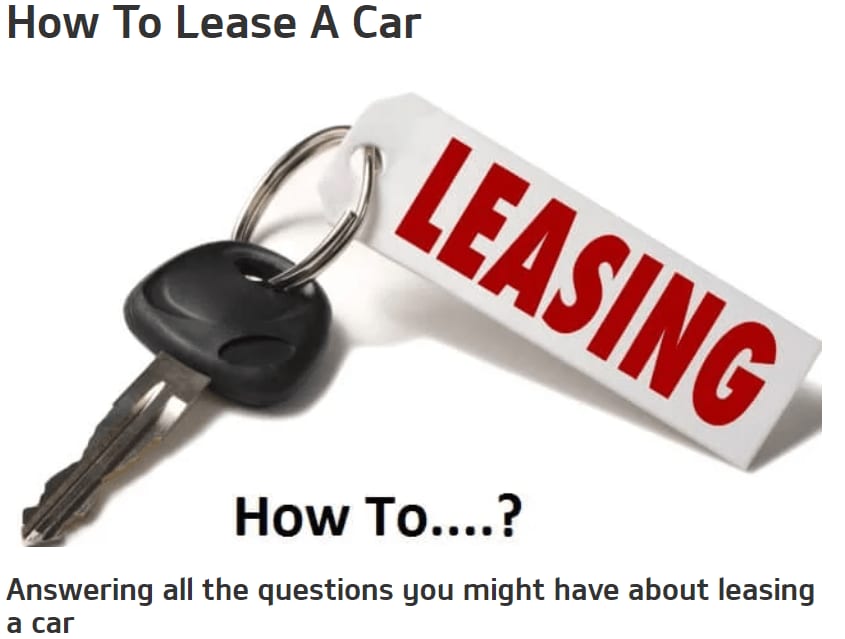 Answering all the questions you might have about leasing a car
There always comes that inevitable time where your current vehicle is not performing like it should. The costly repairs make the thought of getting a new vehicle very enticing, but there is actually an alternative to buying a vehicle that is becoming increasingly more popular. Leasing a car is now an easy way that many people maintain a newer vehicle without having to actually own the car.
Benefits of Leasing a Car
The question that most people will ask when they decide to get a new vehicle is whether or not it is better to lease or buy a car. So why lease a car?
Car leasing advantages include the ability to drive a newer car without the high costs of overall payments.
You are able to lease a car for little money down as long as you stay within the parameters of your lease.
Theres little to worry about when it comes to repair and maintenance. Like leasing a home, you get to use it without the burdens and costs associated with actual ownership.
Once your lease runs out you have the option to lease another car or purchase the car you've been leasing if you love it that much.
How Car Leases Work
The math behind car leasing isn't too complicated. Each and every car on the planet is set to a specific value or MSRP when it is manufactured. As time goes by, there is a set amount of depreciation involved in the value of the car. Leasing a car, in the most basic terms, enables the person to pay the depreciation of the vehicle as opposed to the entire value of the car . The lease price is dependent upon the length, measured in months. A general lease is approximately 36 months.
What is the Best Time to Lease a Car?
Given how leases can often span a year or several, people often wonder when the best time of year to lease a car is. The simple answer is today! We are highly motivated to put a deal together for a customer who is here and ready to drive a new car home today.
Are you in need of a new car? Come see us today.
When the time comes that your current vehicle is not performing as it should you need to come see us at Jenkins Kia of Crystal River in beautiful Crystal River, FL. We have proudly been serving our communities of the nature coast for many years and we want to extend an invitation for you to come and allow our professional staff put you in a new car today. Come check out our current lease offers or buy your new vehicle today.
Give us the chance to answer all of your questions about leasing a car today. We look forward to seeing you soon.
Myths of Leasing
There are so many reasons why not to lease a vehicle...or are there? Many people have a stigma about leasing and then discover that many of their fears are just myths. Here are a few common examples...
Can I get out of my lease early?
Answer: Yes! You may purchase the vehicle outright at any time during the lease or you can also trade it in towards a new lease or the purchase of a vehicle!
I'm in an existing lease but don't need my car anymore. What can I do?
Answer: We buy cars! Doesn't matter if you leased somewhere else! If you want out of your lease, and your outstanding lease balance is less than what the car is worth, we will purchase your vehicle from you and pay off the existing lease!
If I get a few scratches on my lease am I going to have to pay for them?
Answer: Not exactly. Kia's leases expect normal wear and tear.
I drive a lot of miles. Won't I have to pay a lot of money when I turn the lease in?
Answer: No! If you know you drive a lot of miles you can select a high mileage lease! 10,000 miles per year and up is no problem for a Kia lease! You can also purchase the car outright at the end of the lease if you choose!
Don't I have to put a lot down at signing to get a lease?
Answer: No! We have leases where you don't have to put any money down at signing!
Aren't payments higher with a lease?
Answer: No! In fact many times the payment is 50%-70% of a normal monthly payment if owning the vehicle!
What about maintenance? Do I have to pay all the maintenance on the vehicle throughout the lease?
Answer: Not exactly. Because you are getting a new vehicle you will be covered under the bumper-to-bumper warranty all of your lease! Plus we cover your maintenance free for the 1st year!
What if I'm over the allotted miles or getting close?
Answer: if you trade the car in or buy it out mileage overage penalties do not apply.
What do I do at the end of the lease?
Answer:
Turn it in and walk away. You also have the option of just turning your vehicle in at the end of the lease and finding another car!
Trade it in. You may have equity to use against your next lease.You could also trade in your leased vehicle as 90% of leased Kia vehicles have remaining equity in them!
Buy it out. If you still love your Kia buy it outright! If you want to try out a newer Kia model, lease another one!
How Can We Help?
* Indicates a required field